Meri's Mods
information and links for my art and FFXIV mods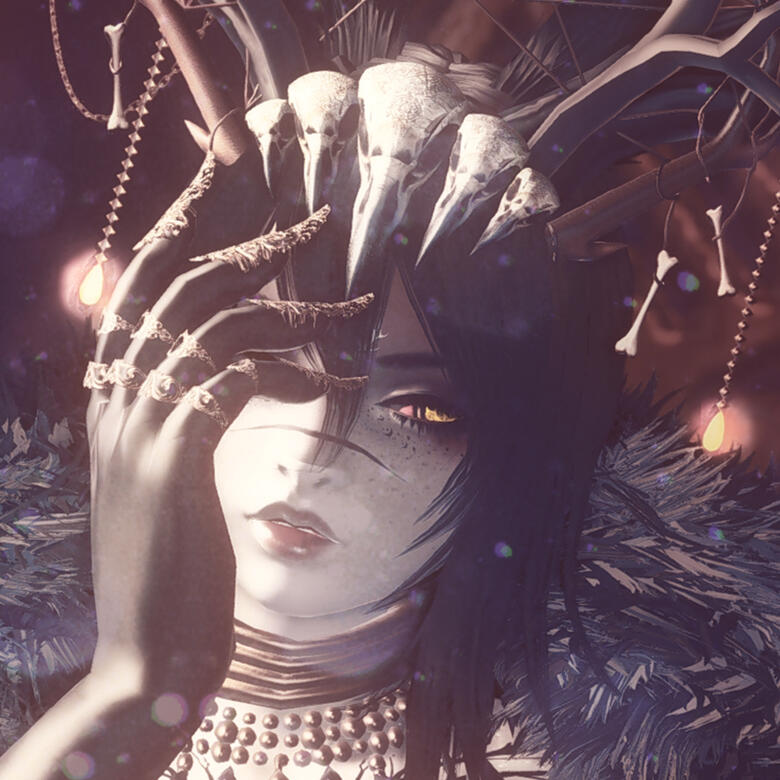 I don't require anyone to directly ask me if they would like to edit my mods. I don't see the point in it. It wastes your time, it wastes my time, this is time we could all be spending making a home-made pizza. Feel free to use anything of mine under these few stipulations:
🔹 When posting to XIV Mod Archive:
Just credit me and anyone I may have credited for the mod/asset in question in your mod release. No need to ask, go for it!

🔹 If posting to anywhere else besides XIV Mod Archive:
Credit me in your release and link back to http://merimods.uwu.ai

🔹 Private edits or use of assets:
(No upload or link hosted anywhere)
Totally fine, yours to do what you want with.

🔹 Commissions, Patreon, any financial gain:
You may not use my mods for the aforementioned without contacting me first, unless it is specified on the individual mod or asset in question to be permissible.
---
🔸 Do not share or post links to private mods made by me without my express permission.

🔸 Do not host or post any of my mods anywhere without my explicit permission. This applies to all of my work, including unfinished and private.

🔸 Do not use my mods or assets in any way that pertains to or encourages hateful and/or illegal acts/content. This applies to all of the above.
Questions, pricing inquiries, bug reports, comments, suggestions? Feel free to contact me for anything reasonable. I have a busy mom life though, so don't fret if I don't respond right away. I'll get back to ya!
⋆

discord

meri#0420

⋆

email

meriffxiv@gmail.com
You can also find me hanging around these places!
The following links may contain NSFW content 🔞 𝖭𝖮 𝖬𝖨𝖭𝖮𝖱𝖲 𝖯𝖤𝖱𝖬𝖨𝖳𝖳𝖤𝖣.
Probably don't look at work either. Just sayin'.
💜 Twitter - milfcatte
my screenshots and occasional ramblings

🎨 Twitter - meridoodle
my art and doodles

🔮 Meri's Discord Server
a little cubbyhole for my mods, screenshots and art— but can also be for your mods, screenshots and art! just a fun little hangout that also serves as a gallery of pretty things. lurkers are welcome! no shit-disturbin' in mom's house!

☕ Ko-Fi - meriffxiv
tips and support are loved and appreciated! also, i drink black coffee. sometimes from mcdonnols. i'm pretty easy.

🐾 Curious Cat - thatmomcatte
ask me things! please don't abuse the anonymous function to act like a clown. those who do this will be publicly lampooned in front of everyone for our amusement.
---
Mod Commission Queue
Face, Makeup
✿ 1.
✿ 2.



Body, Skin, Head/Body Combo
✿ 1.
✿ 2.



3D edits, Ports
✿ 1. Incarn - gear mashup
✿ 2. Garrin - equipable tattoo done & delivered, making new colorset tho
---
Art Commission Queue
✿ 1. Lux - Full body pinup, soft color
✿ 2. Soma - Bust, soft color (raffle)
✿ 3. Shinny - Discord emoji (raffle)
---
Prices and examples coming soon
I make mods for any race, male or female
I am mainly a texture modder. I specialize in face and makeup, body and skin, re-textures and texture up-scaling. I can improve and edit existing textures, and create new ones.

I can do some 3D modding, but I am not porting outfits or hair, nor am I doing upscales or downscales at this time. I cannot create my own 3D models yet.

I can port accessories (with provided models only) and work with vanilla FFXIV models (swapping, resizing, fiddling with bits and pieces, etc).

Please make sure you have permission before commissioning me to use 3D models from other sources.
---
Most of the texture mods I make are highly customized works of art, and the level of detail and difficulty of each mod will determine the cost to create it.

Price will vary depending on factors such as, but not limited to: very high detail, details spanning head and body seam, multiple texture map edits, combining/creating textures for 3D mash-ups and swaps, etc. This stuff is discussed when you commission me.
All body mods are public after 2-3 weeks.

Face and makeup mods are public after 3-4 weeks, or have a +20% private fee.


Listed below are base prices that each category starts at.
✿ Makeup & face mods start at $20 USD
Example: Makeup, repaint/retexture, face paints and decals, scars, freckles, tattoos, any kind of edit to the face


✿ Body & skin mods start at $25 USD
Example: tattoos, hair, scars, paints and decals, markings, freckles, new scales or edits to vanilla scales, anything that can go on your skin


✿ Face + body combo mods start at $40 USD
A seamless head and body set of the above two categories


✿ Gear & clothing, head & face 3D mod edits — DM me for inquiries and pricing
Example: Improve existing texture with repaint, higher resolution; change patterns, colors, styles, decorations; add-on or swap existing parts of 3D models such as horns, ears, teeth, eyelashes, gear & clothing accessories, armor pieces, etc etc. Ask me!
---
Section pending as I add more blurbs, links, guides, and other useful things!
"Can I use this skin mod, but with this body?"
✿ Female:
Female skin & body mods I create (except Lalafell) are compatible with all Gen 2 body mods including but not limited to Tight & Firm by Titan Firm, Curvier Bodies 3 by Sel, and BBWVR2 by Natyusha. SFW and NSFW compatible, works with all muscular options unless specified otherwise on a specific mod. Currently all tall female bodies use the same skin texture mapping layout.** Basically, this means you can use my mods with any type or size of female body mod.



✿ Male:
Male skin & body mods are separated into two types, The Body and NBP, both created by Tsar. Their texture mapping layout differs from one another's, so I make mods for both types. SFW and NSFW compatible. My male skin & body mods are not usually compatible with all body hair mods, and sometimes not compatible with all kinds of abs, depending on the mod. Every male mod I create will specify which body hair & muscular texture maps I worked off of — it's a safe bet to assume there'll always be an average/hairless version since they're visually easier for me to create details with.


✿ Lalafell:
Lalafell skin & body mods affect both male and female Lalafells. They are compatible with the vanilla unmodded body and all body mods. I use an improved, high-resolution, repainted skin texture that borrows NaughtyWVR's UVs and Titan Firm's T&F skin.


✿ Hrothgar & male Roegadyn
Hrothgar and male Roegadyn textures are their own separate sets from each other and everyone else, but they use the same 3D model for their body shape. Mods I make for these races use the hrBody created by Tsar. Technically, you can swap their texures and have a fuzzy Roegadyn and a bald Hrothgar. Not sure of a reason to do that, but now you know. 🌈





-

* footnote :
the BBWVR2 body update by Natyusha has new additions to the body texture. My body skin mods are not compatible with it. I'm taking some time to put the new texture overlays on my old mods. All new mods I create from now on will be fully compatible with all body mods.
---
"I installed a skin / body mod for my Miqo'te, so why do I see it on Midlanders?"
⭐ Certain sets of races share the same skin textures (diffuse and normal maps). When you install a skin mod for one, they will all have it. Your character, someone else's character, and NPCs.
---
Female
Midlander shares with Miqo'te shares with Elezen

Highlander shares with Roegadyn

Viera

Au Ra Raen

Au Ra Xaela
---
Male
Midlander shares with Miqo'te shares with Elezen

Highlander

Roegadyn

Hrothgar

Au Ra Raen

Au Ra Xaela
---
Lalafell
Male and female Lalafell share the same
---
Example 1:
I install a skin mod for my male Roegadyn. As a result, my male Roegadyn and all other male Roegadyn players and NPCs will also have the same skin mod applied to them. All other races' skins are not affected.

Example 2:
I install a skin mod for my female Miqo'te. As a result, my female Miqo'te and all female Midlanders, Miqo'te, and Elezen players & NPCs will also have the same skin mod applied to them.
---
---
"Why do Au Ra get so many more customization mods than other races?"
⭐ All races except for Au Ra share the same specular texture map. What does this mean for you? If you install a mod that contains a specular map for the skin of any race besides Au Ra, you will see every single race and gender's skin affected by it. Results are usually not desirable. Because of this, I suggest using non-Au-Ra skin specular mods only for screenshots rather than everyday use.
---
1k, 2k, 4k, which one to install? Why does it matter?
Imagine you have a piece of plastic wrap that you've drawn a lovely detailed picture on. We'll say your plastic square is 10-cm-by-10-cm. You have a ball that has a 50 cm diameter. You want to stretch your little plastic square around the ball so that the ball is wrapped and covered entirely in the plastic... but what's happened to that detailed picture on the wrap? Oh no, it's all stretched out and distorted!

The default vanilla textures are usually in the 256 x 512 px size area. That's a tiny plastic square to stretch over some much larger in-game models! It saves a lot on hard drive space, and you may not notice the pixelated effect of the lower resolution with many gear items, fortunately.

But when it comes to your face and your skin, I don't know about you, but I notice that stuff. Trying to get something framed right in gpose, only to notice the freckles are these low-res pixelated smudges, infringing upon the crispness of my makeup mod? Aw heck no, that kills me! Can't have it!

It's easy to bloat the capacity of your mod space (maxed out = somewhere between 5 & 6 GB) with high-resolution texture mods, however. So it's not a great idea to install as many as you can get your hands on!

My personal way of handling this is to only use high-res mods for the characters I'm specifically using or seeing often.

Installing every option in a high-res mod pack bad, picking and choosing to install only what you're gonna use a lot good.

I usually offer lower resolution versions of my mods that won't bloat your space, but are still a step up from the small, compressed vanilla textures. That way when your friends come to visit, they can still look customized with you.
"What body mods are you using?"
I get asked this quite a lot! I don't mind answering at all, but I do hope it will be helpful to have it here to reference.

Body size mods I use, in order of preference:
🌙 Milf Mod by Colony
⭐ BBWVR2 XL bottom by Natyusha
🌙 Megathicc Meri bottom by Rider
⭐ CB3-NV top by Rider
🌙 TF2-XL by Lizzy, Antarran & Rider
To find clothes and gear made to fit these sizes, use Advanced Search on XIV Mod Archive.

Try any of the following in either the tags slot or the comments slot:
tf2xl tfxl cb3nv megathicc meri spec milf


Note: You can mix and match any of the tops & bottoms sizes with any other existing body mod sizes except for Milf Mod tops and bottoms.

I do a small personal 3D edit to widen the waist and tummy on CB3-NV and TF2-XL tops to achieve a certain look that I prefer. Sometimes it's also just photoshop post-processing because I can't be bothered. I don't release these as mods since it's such a minor edit, but you're welcome to ask me about anything you see in my screenshots.
---
— a little ranty, a little venty. if you were ever curious about why my characters look the way they do, and what it's been like being "Megathicc Meri" the "thicc modder," it's a reflection on all of that.
---
"But why always so thicc?"
After a lifetime of playing games and watching shows where the main female is some combination of petite, thin, athletic, small, average, I can't say I have any desire to create characters with that look these days. I honestly have nothing against it in general, I love people, characters and other OCs of all body types. But it's just not really for me. It doesn't inspire me, it brings me no passion to create, it's not the default definition of beauty for someone like me.

Someone like me sees large busts, booties and thighs, soft tummies, curvy waists, as things that are just as normal, valid, cute, pretty, and lovely as a dainty and small-framed person.

I ain't ever going to be small, no matter what I do. I'm not tall enough to be tall and I'm definitely not short. I grew up some lumbering, chonky, chesty, weird nerd who liked drawing and video games and anime. It was awkward and sad, it wasn't a great look for a teenager, but I've since lost a lot of weight and grew into a much less refrigerator-shaped physique as an adult. I really disliked myself for how I looked for the longest time, and there were enough instances of others 'helping' reinforce that belief.

I don't want to have to feel ashamed or gross about my large chest or butt or thights any more; shit man, I did the work and overcame a health disorder, lost the weight and became healthy. I watched all of my pants become absolutely useless and I had to get new pants. It was hard and it was worth it. I also became pregnant, gained so much weight back, had an entire kid, and have lost most of the weight now again. So some parts of me still stayed "thicc," I didn't plan it or ask for it, but I'll be damned if I'm not allowed to enjoy it. I'm too much of a dang introvert to do much with fashion, makeup, or going-out in real life, that stuff is expensive and I'm tired; I still prefer to draw and play video games, so that's where all of my self-expression gets squished in to.

I can't be arsed to get myself a perfectly fitting silk party dress with ruffles in my favorite colors and pose for pictures in that, god that sounds hard and expensive, and bless anyone who takes the time to do photoshoots like that, goodness. But I can use as many art and graphics tools at my disposal as I can and make my own characters, my own dress-up dolls who have any and all of the kinds of visuals that I love. It's fun, I love it, and it's art. That's what artists do, we put our passions and feelings to a medium and just throw it out there and say, I MADE THIS I LOVE THIS.





I have had to witness and deal with harassment from people who believe the kind of body type you see in my screenshots and art to be "over-sexualized" and "offensive to women" for a long time. In real life, online, and for my entire time in the FFXIV modding community. It's interesting, since I happen to be a woman with a very similar kind of body type to what you see in a lot of my work.

that body type is impossible
that's anatomically incorrect
clearly you've never seen a woman before
where are her organs
ow her poor back
omg her thigh is bigger than her waist
omg her tits are bigger than her head
her spine would probably snap

Just to name a few of the memes I've gotten to enjoy during my time making art and screenshots.

Opinion zone: I think trying to restrict or shame whatever body size mods people want to use is some of the most nonsensical and controlling mob mentality stuff that I've ever seen in a modding community.

Being passed around on twitter as another scathing retweet mocking someone's screenshots, or set as a permission restriction on a gear mod, or the entirety of the circle-jerking that has gone on in TT discord — why even, though? I feel like those who subscribe to this mentality could try and ask themselves why it matters to them so much if someone else's proportions don't look how they personally prefer, in a fantasy/anime style game no less. Consider that not as many people using "thicc mods" as you think are creepy catfishing dudes. A lot of us are women, some are men, some are non-binary, some of us have proportions in real life that you may have never seen or really paid attention to; and none of that even really matters.

Some of us are tired of trying to fit into an image that doesn't make us feel anything: that's something everyone who uses mods can relate to.

And hey, what even is "modding" a game? Modding, modifying, modifications, it all entails customizing a game to a user's specific preferences. When you tell someone that they can customize their game but only to your own preferences, that's a little weird, isn't it?
---
By clicking either of the above links, you understand that you are navigating to content that is NSFW.
---
---